Marketing Betreuung & Support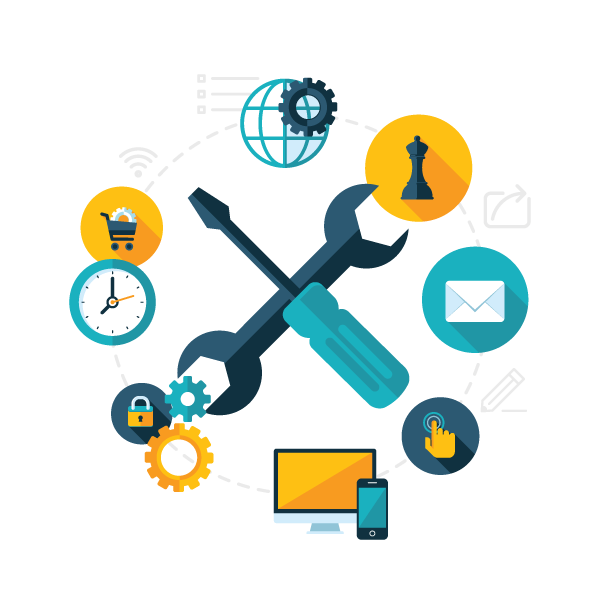 Wir übernehmen die Betreuung Ihrer Plattformen.
Zu unseren Dienstleistungen gehören:
Hosting Services & Updates
Webhosting, Server-Updates, Compatibility tests (Server Updates)
Website Administration & Entwicklung
Backups, Updates & Testing, Technische Weiterentwicklung der Plattform & Tools
Content Updates & Aufbereitung
Neue Inhalte gestalten und für die jeweiligen Plattformen kanal-gerecht aufbereiten.
Professionelle Betreuung der Marketing Plattformen & Profile.
Im Rahmen unseres Full Service Angebots übernehmen wir auf Wunsch die Betreuung und Pflege sämtlicher Marketingplattformen wie Website, Social Media Profile, Newsletter und weiterer digitaler Plattformen.
Dies garantiert Ihnen einen stets aktuellen, professionell betreuten Auftritt in der bestmöglichen Qualität. Interne Betreuung durch ungeschultes Personal oder "nebenher" gemachtes Marketing führt oft zu technischen Problemen, SEO-relevanten Fehlern oder optischen Mängeln auf Ihrer Webseite.
Erfahrungsgemäß macht es Sinn, die ausführende Marketing-Agentur auch mit Betreuung der Plattformen zu beauftragen um eine durchgehende Qualität sicherzustellen.
Ihre Vorteile einer Fulltime Betreuung
Technologien & Plattformen entwickeln sich rasend schnell. Genau so wandelt sich das Nutzerverhalten Ihrer potenziellen Kunden auf den verschiedenen Marketing-Kanälen. Was gestern noch funktioniert hat ist vielleicht heute schon nicht mehr aktuell.
Um mit den Veränderungen Schritt zu halten, ist ein professioneller Sparing-Partner aus der digitalen Marketing-Branche ein entscheidender Vorteil. Während ihre Konkurrenz sich noch auf veraltete Technologien und Methoden verlässt, haben Sie durch eine aktive Entwicklung Ihrer Plattformen die Chance, den entscheidenden Vorsprung herauszuholen.
Nebst der Betreuung erhalten Sie von uns auch wertvolle Inputs aktueller Entwicklungen und Chancen für Ihr Unternehmen.
rantanplan AG hat uns im Bereich SEO-Strategie beraten und unsere Marketing-Teams bei der Umsetzung der Kampagnen begleitet. Das Know-how, Projekt Management und vor allem die Resultate sprechen für sich. Ein ausgezeichneter Partner.
"rantanplan was able to re-design and relaunch our website and the related marketing channels within a short amount of time and with amazing results. They gave us great advice in terms of digital marketing, SEO and Analytics and we are looking forward to our ongoing collaboration"
"rantanplan hat unsere Projekte erfolgreich geplant und umgesetzt und uns im Bereich Digital Marketing, SEO und Analytics beraten. Alles wurde äusserst kompetent, schnell und innerhalb des Budget abgewickelt. Wir freuen uns auf die weitere Zusammenarbeit"
"rantanplan offered a very positive experience. The team listened very closely to our request and completed a perfect website design and social profiles for our company. We will absolutely keep working with rantanplan and include them in all our future marketing activites."
"Laufende Optimierung der SEO-Massnahmen sämtlicher Domains unserer Firmengruppe mit ausgezeichneten Resultaten. Die Reports sind klar und verständlich aufbereitet. Sehr zu empfehlen…"
"A reliable and creative partner for years in strategic issues as well as in the implementation of our ongoing marketing activities."
"Our projects have been supported for years with skill and flexibility – and excellent, visible results."
"Projects in a relaxed, amiable and professional atmosphere. The final products are impressive. We will definitely work together on future projects!"
"Efficient implementation and ongoing optimization of our online platforms with extremely positive results from the beginning."
"Sehr effiziente Umsetzung und laufende Optimierung unserer digitalen Marketing-Projekte mit äußerst positiven Resultaten – bereits ab den ersten Wochen."
"Sehr strukturierte und zuverlässige Arbeit. Für bewegenden Content und digitales Marketing sehr zu empfehlen."
Confident and independent handling of various marketing projects. Extremely valuable reinforcement accompanied by considerable financial savings.
"Projekte in professioneller und sympathischer Atmosphäre. Die Endprodukte und Resultate können sich sehen lassen. Jederzeit wieder!"
"Sämtliche Digital Marketing & SEO-Projekte werden seit Jahren kompetent und flexibel begleitet. Mit ausgezeichneten und nachvollziehbaren Resultaten."
"Seit Jahren ein zuverlässiger und kreativer Partner im Bereich SEO, Digital Marketing und in strategischen Marketing-Fragen. Die Umsetzung der Projekte erfolgt zeitnah und professionell. Top!"